Malaysia is a beautiful place, and it is often known for its tourist attractions. Being an economically booming country, Malaysia is poised with beautiful facilities and a lot of amusements for the tourists. Kuala Lampur is the capital city of the country and it is undoubtedly the best tourist attraction. However, apart from capital city, you have plenty of other places to explore in this country.
To visit various tourist destinations, you can take help of the public transport system of the country. It offers low cost and highly comfortable public transportation. Tourist places across the country are well-accessible due to seamless expressway of the city. We shall know about transportation details and various crucial expressways of Malaysia in the following section.
Transportation System in Malaysia
The public transport system of the country is quite rapid and advanced. People have three options for public transportation. They are trains, buses and minivans. Apart from them, private transportation options are also there.
You can hire taxi to reach your destination. You can rent a car with driver. You can even rent car for self-driving, though in that case you should have valid driving license and required permission to drive in the country. Using public transportation is encouraged to tourists for the following reasons:
Public transportation is cost-effective. If you are traveling to Malaysia with limited budget, you should opt for public transportation to roam around the country. Public transportation is a safe option for the tourists as well. Choosing public transport, like buses or trains is always an environment friendly thing.
Buses and Trains in Malaysia
When it comes to discussing about public transport system of Malaysia, trains are buses are considered as the major highlights. Apart from them, minivan services are also available, though they are limited to only in a few routes of the country. With public transport, like train and bus, you can easily roam around the country.
All trains are buses feature air conditioned interior. There are multiple rail networks in the country, and at times multiple train channels could be a little confusing for the travelers. You need to keep in mind that there are three major rail operators, and they are:
Rapid KL: This operator works within the city of Kuala Lampur. You can explore nooks and corners of the city with the rail network transport, offered by this operator.
SSR: This operator works for rail networks within Sabah region.
KTBM: For the Peninsular Malaysia region, KTBM rail operator runs various trains.
Buses are available from the bus stops, and you can purchase tickets on boarding. For trains, tickets are needed to be purchased at the platform before boarding. Payment system is quite simple and online booking facility is available.
All major credit cards are accepted at train platforms, though there are a few exceptions. In buses, you have to pay cash for buying the tickets. So, carrying cash is important when you opt for the public transportation in Malaysia.
Prepaid Card for Public Transport
If you want to avoid the hassle of paying cash every time when you board on a bus, you can go for the prepaid travel card. It is to be noted that the prepaid electronic cash card is only available for the bus transport network within the city of Kuala Lampur.
Touch'n Go Prepaid Card is not just applicable for paying public transport fees or tickets, they can be used to pay car parking, buying train tickets, etc. In fact, you can even buy a movie ticket in Kuala Lampur with this prepaid card. Money can be reloaded to the card easily at any point of time.
For reloading the card, you can visit the nearest ATM kiosk. Alternatively, you can reload it at local convenience and pharmacy stores. Card should not be damaged, as damaged or ruptured card would of no use.
Taxi Service in Malaysia
In all urban places of Malaysia, finding a taxi is not a matter of hassle. You can easily find free roaming taxis within the city and these taxis can take you to your destination safely as well as comfortably. Taxi fare is measured in two ways.
The most transparent way is going with the meter. You can reach your destination and taxi meter shall disclose your bill. Now, you can pay bills and get down from the car. The other way is setting a fixed value for the destination that you want to go. Many taxis operate in this way, despite having meter attached with the car.
Trishaws in Malaysia
In various places, including Kuala Lampur, you shall get Trishaws which is three wheels based car. The comfort would not be top notch in such vehicles, though they are extremely cheap. You can ask the driver for any destination within the city and you shall be there in no time.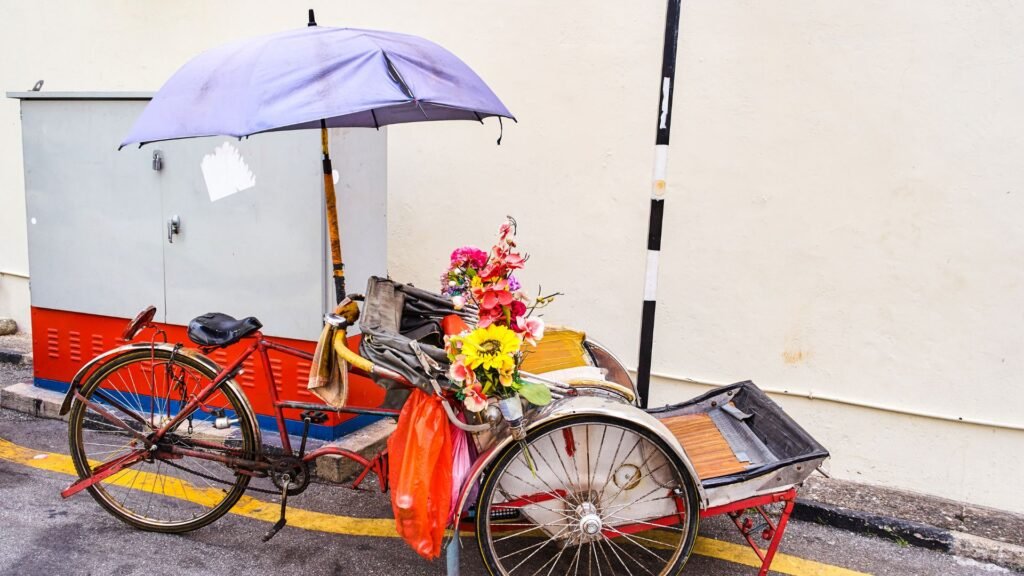 No prepaid cards will work for paying the drivers of Trishaws. You need to pay their bills in cash. They operate based on zone to zone based fixed rates. However, often they ask for higher amount than standard rate. So, tourists can negotiate the money to be paid, before boarding on the vehicle.
Places to Visit in Malaysia
Malaysia is a small country, though it is poised with a lot of interesting destinations for the tourists. Generally, tourists know about Kuala Lampur, which is the capital city of the county. But, there are many other places to explore.
If you are a true explorer, you should have enough time in hand to visit around the country and explore its vibrancy in natural as well as cultural diversity. For the tourists, here is a guide to explore the best places of Malaysia.
Kuala Lampur
Obviously, the capital city of Malaysia is the point of all attractions for tourists in this country. It has an international airport, and you would probably come to this place through air traveling. Kuala Lampur is a vibrant city, possessing an ambiance of cultural mix of Malay, Chinese and Indian. To roam around the city, taxi is the best and most comfortable option.
However, if you want cheaper mode of transport, you should find buses and trishaws. There is no shortage of eateries that offer delectable foods. The city of Kuala Lampur is famous for its drool worthy street foods.
Penang
This is a large island of Malaysia, and it is an exquisite tourist spot that you should not miss out. Poised with vibrant nature and rich historic past, this place has many amusements to offer to tourists. Air travel is the fastest mode of traveling to Penang.
If you are setting off your journey to Penang from Kuala Lampur, you should reach Sentral Station in Kuala Lampur. To reach here, you shall get three options for traveling. They are bus, trishaw and taxi. You can also get application based cabs, like GRAB, UBER, etc.
From Sentral Station, you need to buy train tickets for Penang. If you want more comfortable journey and you want to save time, you should opt for air traveling.
Through train, you have to start from KL station and it would take around 3 hours and 30 minutes to reach Butterworth. From there, you shall get ferry service to reach Pengkalan Weld. The journey on ferry would take around 1 hour approximately.
Perhentian Island
From Penang, your next destination can be Perhentian Island. This beautiful island is a perfect destination for those, who want to spend some days at a far distance from bustling urban life. Serene and refreshing surrounding will bring heavenly rejoice for you. To reach the island from Penang, you need to go to the Kuala Besut Jetty.
For cheapest journey, you can take a bus to Kuala Besut Jetty from Penang. Journey on the bus would be around 7-9 hours. If you want to make the journey a little comfortable and more rejoicing, you can hire taxi from Penang. However, you have to make extra expenses for that for obvious reason.
From Kuala Besut Jetty, frequent ferries are operated. Small ferries can accommodate maximum 10 persons. It takes around 30-40 minutes to reach the Perhentian Island from the jetty.
Malaysian Borneo
If you are a nature lover, you should pay a visit to Malaysian Borneo which is the most beautiful region of the country. It is a lush green rainforest area, featuring abundant wildlife. Poised with natural splendor, this place is truly amazing from all aspects. To reach the place from Kuala Lampur, the only possible option is to opt for flights.
However, there is nothing to worry about the cost, as cheap flights are available on this route for tourists. Borneo is divided into two regions and they are Sabah and Sarawak. Both these regions are quite good. So, you can choose to visit either of them. If you have time and no budget constraints, you can visit both these regions.
Overall, visiting Malaysia is absolutely enjoyable and relishing. It is a safe country for tourists and it is poised with a lot of unique tourist amusements.